12 Lights of Christmas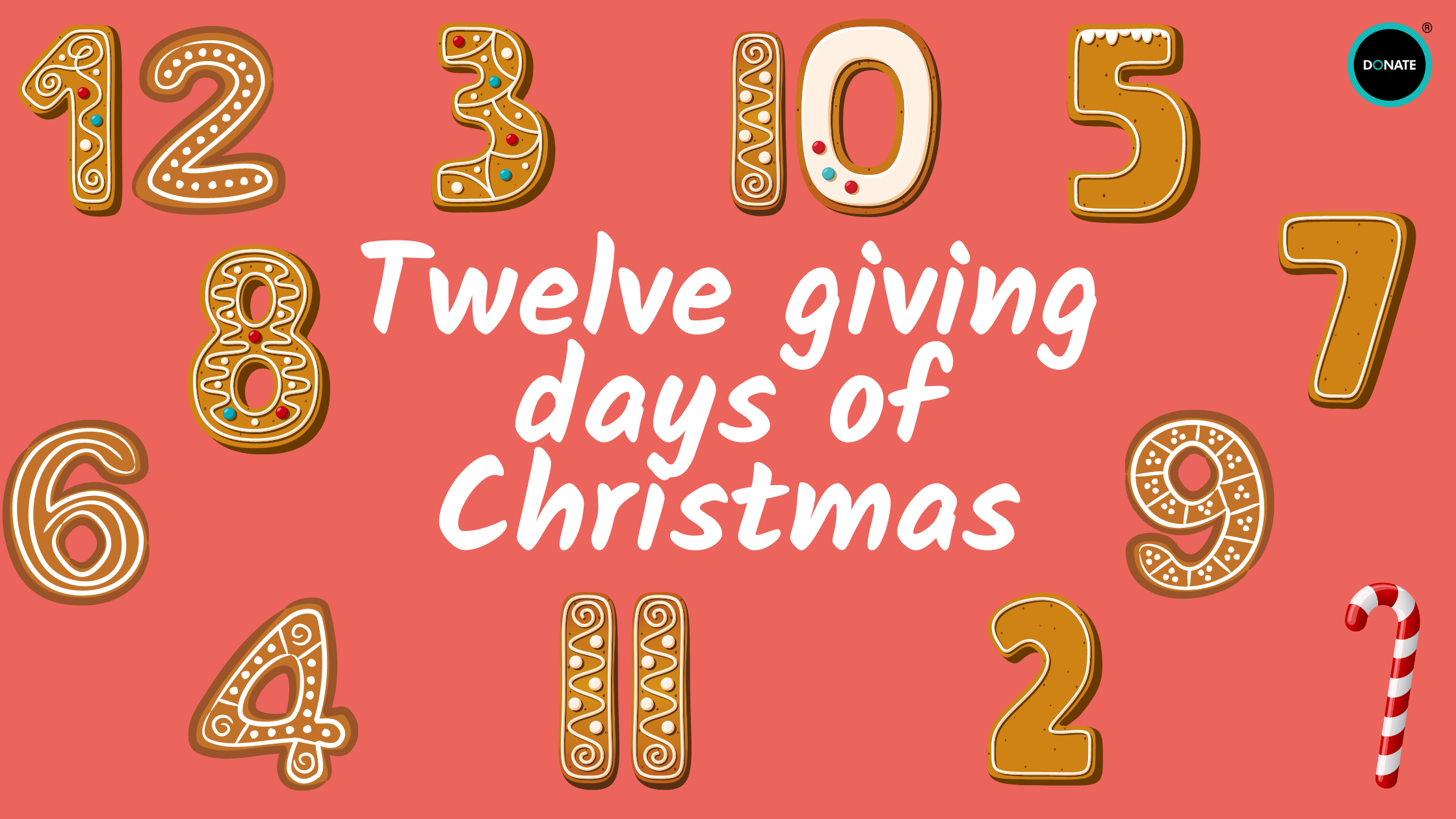 Twelve ways DONATE™ partners have been fundraising. From festive campaigns to general contactless donations. Our partners campaigns have been successful and delivered vital funds to good causes this year. Here is a countdown to how they have done it….
Twelve community collectives drumming
Rotary Clubs, Round Tables and Lions run invaluable fundraising for and in their local communities for various good causes. Each Christmas DONATE™ plays host to many web donation pages for Santa Sleigh Runs and Routes, which form a core part of their yearly fundraising efforts. Find out more https://www.nationalfundingscheme.org/charities-receiving-increased-donations-during-pandemic-as-generosity-rises/
Redditch Round Table 2020 Christmas Santa raised a HUGE £3057 to give back to the Redditch community. With a focus on contact free collections, donations were made through a QR code, web and text codes. The messages left whilst making donations were just as valuable to the RoundTablers. After receiving hundreds of kind words they have pulled out a handful to display on social media stating "We are deeply humbled by these messages, it was amazing to start receiving these and sharing them around our tablers, it kept us going knowing just how much the Santa sleigh nights mean to you all!"
easydonate.org/redditch-round-table
Eleven piped cupcakes
Food Banks provide a valuable service all year. Over the colder winter month this is even more vital to their service users. Continually raising funds to keep the provision of food parcels going, covering transport and essential running costs. Many food banks are not charities themselves but a charitable cause, run by volunteers providing a service to local communities. Read more https://www.nationalfundingscheme.org/digital-gift-aid/
Canterbury Food bank CIC has raised nearly £42,000 since joining DONATE™. Whilst they welcome food donations to keep their services running they also collect money where this isn't possible. 58% of donors opted to add gift aid when making their donation by completing DONATE's enduring Gift Aid declaration. All gift aid is processed by DONATE™ meaning Canterbury Food Bank received 100% of these donations.
easydonate.org/canterbury-food-bank-cio
Ten lords a-praising
Providing sanctuary and service to their local communities, DONATE's registered religious organisations are able to fundraise for a variety of good causes from maintaining the buildings to providing cups of tea for the toddler group. When congregations were disbanded, many religious organisations turned to technology and have bounced back stronger by providing digital offertory collections and reaching new audiences. Read more https://www.nationalfundingscheme.org/5-steps-to-a-great-text-giving-campaign-for-your-charity/
St Andrews, Enfield run 16 services online each week and advertise text donations in their Sunday services. A 5 minute pause to allow people to complete their offertory donations was incorporated into the order of service. The building can only hold 200 people but they have gained an additional 200 viewers to the online services. Since using DONATE's text service during the offertory collection they have raised over £5000 through the £20 text channel and continue to do so as online services are set to continue to complement traditional services ". "Text to Donate has been a blessing".
easydonate.org/st-andrews-church,-enfield
Nine nimble dancers
Providing enjoyment for the benefit of many, the arts sector has always embraced the online world. However with major funding and tickets sales suffering digital giving is filling some of the fundraising gap. Many loyal members and audiences are happy to give a little to ensure the future of the arts. Read more https://www.nationalfundingscheme.org/hybrid-fundraising-into-the-new-year/
Since 2008, Tête À Tête, an innovator in hybrid events, have been running their festivals and shows as hybrid experiences. Audiences have grown internationally, and the charity now has a viewership of 1m+. Experience shows that the lower priced ticket holders often donate most generously when artists ask for donations during the show. Running over 20+ campaigns during their festival season, Tête À Tête maximises on DONATE's free campaign set-up.
Eight nurses a-caring
Many charitable health organisations provide a range of services; supporting sufferers with specific illness, raising awareness of conditions or providing end of life care or equipment and resources. Not just at Christmas but throughout the year. With DONATE™, multiple campaigning is seamless and  free to set-up even with unlimited and unique keywords. Providing multiple donation streams, our partner organisations are able to support different causes simultaneously and so receive maximum benefit from DONATE's pay as you raise ethos and real time reporting tools. Read More https://www.nationalfundingscheme.org/how-to-understand-digital-giving-platforms-and-prices/
Mildmay Hospital's annual Christmas Appeal brings a little light into the lives of their patients by raising funds to provide presents. Any patients discharged between Christmas and New Year, living alone or in a hostel, and have no family nearby, are given a small hamper of modest gifts and treats and toiletries to take with them. By promoting the unique keyword for text, web and QR codes on their website, donations are growing. Managing several donation income streams in one campaign,  through a platform that ensures donor data and gift aid is securely processed, has made fundraising even easier.
easydonate.org/mildmay-mission-hospital
Seven children visiting Santa
Children's charities support young people and their families through illness and crises in the UK and abroad. Our partners supporting the youth generations run campaigns like fantasy football, readathons and DJ-athons to bring fun to fundraising. To engage a younger, more technology savvy audience they turn to DONATE™ for digital fundraising integrated into innovative fundraising campaigns. Read more https://www.nationalfundingscheme.org/auctions-and-how-to-plan-them/
Currently running their second DONATE™ auction to support bereaved children, Penhaligon's Friends's 2021 auction has over 45 lots. With varying offers and prizes Penhaligon's Friends will support families and friends during the Christmas period from the funds raised. DONATE™ auctions provide a range of flexible options from start and end dates, reserves and varying bid increments as well as an integrated payment channel. They can easily be integrated into live events and provide an interesting focus point for a fundraising evening.
easydonate.org/penhaligons-friends
Six homeless sleep-outs
Organisations that support people experiencing a crisis or homelessness face an extra demand during the winter and festive season. A web donation platform such as DONATE™ can make all the difference to their fundraising efforts providing them with an easy way to process card payments, collect Gift Aid and international payments through a customised web donation page. Providing confidence to their donors that their donations will reach those most in need is critical to fundraising success. Find out more https://www.nationalfundingscheme.org/charities-receiving-increased-donations-during-pandemic-as-generosity-rises/
Sutton Night Watch Homeless celebrated last Christmas by encouraging supporters to donate a star. The personalised wooden stars hung on the community tree at the shelter were sponsored by friends and family. The names given, through the DONATE™ messaging platform, were handwritten onto the stars. Over 20 stars adorned the tree until the new year, raising £950.
easydonate.org/sutton-night-watch-homeless
Five gold hoops
Christmas is traditionally a time for a full sports calendar. Sports organisations, from professionals through to grass root clubs, use the the DONATE™ platform to raise much needed funds for their charitable and community work. From online auctions to text giving in-stadia and contactless units at meets, DONATE provides a range of options. Read more at: https://www.nationalfundingscheme.org/how-to-incorporate-contactless-giving-into-your-venue/
DONATE™ contactless devices provide ideal donation points for events, especially when people gather for sporting meets. During match days Aberdeen Football Club Community Trust deploy their contactless devices at key entry points to their ground. Whilst restrictions on gatherings remain an issue in the sector, offering a contact free option to donate ensures supporters can still contribute to clubs, communities and projects in a safe and secure way.
easydonate.org/aberdeen-football-club-community-trust
Four helplines calling for support
Many charitable organisations run a helpline as part of their community service. As with QR codes, telephone helplines have also been revitalised in the wake of recent world events. Helplines need funding and DONATE™ fundraising services have supported the growth and provision of this essential channel. Find out more https://www.nationalfundingscheme.org/text-raffle/
Text raffles are a fast and efficient way of fundraising quickly as found by Big C Cancer Charity who went on to run 3 DONATE™ text raffles for donated sports memorabilia. Text raffles can be far reaching when promoted across social media, and they can also be a fun introduction for charitable organisations. As a unique offering they also act as a great ice-breaker into the world of digital donation services. Big C's Big raffles raised £2720 for the charity in the spring of 2021.
easydonate.org/big-c-cancer-charity
Three refugees from Sangatte
Overseas aid organisations supporting the world's poorest communities continue to battle against the tides of corruption and exploitation. As a charity ourselves, we provide a level of  reassurance to donors that their funds are being correctly targeted. Further relief agencies can be assured of DONATE's secure and GDPR compliant fundraising services. Find out more https://www.nationalfundingscheme.org/the-data-protection-act-is-dead/
The Challenge Fund regularly fundraises for overseas projects. Back in November 2020 their crowdfunding CHEERS campaign targeted a raise of £1m to build a new 20 – 25 bed palliative care hospice on behalf of Project Hospice Nepal. The campaign invited supporters to buy a virtual drink for a friend or colleague and donate the cost of that drink by texting CHEERS or donating via their campaign web page. Individual donations ranged from £5 to £1000.
easydonate.org/the-challenge-fund
Two rescued turtle doves
Rescuing, rehabilitating and rehoming thousands of animals every year requires significant funds. A range of DONATE™ registered animal welfare organisations use the breadth and width of DONATE™ fundraising services to maintain the buildings, provide vaccinations and ongoing animal care. With an ongoing funding need, DONATE's regular fundraising services provide regular monthly giving to support these needs. Read more at: https://www.nationalfundingscheme.org/regular-giving/
St Giles Animal Rescue places huge importance on regular monthly donations and ensures the ask for monthly support is highly visible across donor touchpoints. With over 86% of regular donors still giving one year later, St Giles is attracting recurring donations to support the ongoing needs of its charity and much needed stable income. Further, when asking for regular donations, 13.5% of donors switch their one-off donation to regular monthly giving. With solid and reliable monthly income, St Giles' fundraisers can give more time to one-off events and relationships with high level donors.
easydonate.org/st-giles-animal-rescue
A partridge in a fallen tree
With COP26 just ended and ongoing concerns around the environment, climate-based campaigning is high on the fundraising agenda.  With a young and active fundraising base, such charities prioritise digital, low cost and speedy methods to boost income. Find out more at: www.nationalfundingscheme.org
The Conservators of Ashdown Forest continue to bring in vital donations by displaying campaign-specific QR codes and text giving information on their outdoor signage. Raising over £10,000 since using DONATE™, 20% of these donations have been transacted through the automatic and freely provided QR code generated for each campaign. Where we see our partners promoting campaign QR codes, we have seen a direct increase in the value and number of transactions.
easydonate.org/the-conservators-of-ashdown-forest
---
DONATE™ provides many options for digital fundraising.  If you would like to know more about any of our fundraising services and how they can be used by your cause, please get in touch at hello@nationalfundingscheme.org