Capture tourist donations with our Summer Fundraising ideas
Many of us will be exploring and enjoying the British Isles this summer. Have you got a plan to make staycationers become part of your long-term supporter group? Below we identify four ways to welcome new supporters and donors. 
Open Days
Hold an open day during the week to enable visitors to see behind the scenes. Introduce key members of staff, open up the offices and encourage Trustees and Patrons to be on-site. Make sure you demonstrate the value of your work, how fundraising benefits your organisation and provide opportunities for visitors to meet your beneficiaries. Provide contactless fundraising points, display text donations, DONATE™ web donation pages and QR codes on signage and also encourage your guides, volunteers and  employees to be around to collect visitor contact details and follow-up to any enquiries. Where possible, attract longer term commitment by offering newsletters and regular donation programmes.
Tours and Trails
Many organisations are entrusted with local historical artefacts, well maintained grounds or conserving national or local assets. Putting together a guided or self-guided tour for your organisation could bring new audiences, supporters and donors from far and wide. Include a link to a self-guided tour map PDF on your DONATE™ fundraising page or set-up a ticketed campaign page to convert donations into tickets. learn about setting up a ticketed campaign here. Collecting cash collections for events can be onerous and supporters now expect to use digital donation routes such as web, text or contactless devices. These not only maximise donations but also provide a route for regular donations. Ensure tour guides make the case for support and are trained how to ask. They must also be comfortable with  the donation process as well as delivering exciting facts about your organisation.
Online Content 
Offering your supporters a way to attend a local event (for example a church garden tour whilst on holiday) has become part of the visitor experience as well as providing an opportunity for ongoing dialogue and connection. Capture names, mobile numbers and emails (and all important marketing permission) and then send them photos and videos of their participation, newsletters, QR codes and other material once they get home. This provides them not only with an opportunity to relive the holiday experience but also share it with friends and family. Engaging these visitors with online events is the next natural step and hey-presto, you have a new base of supporters. 
Tete a Tete
Since 2008, Tête À Tête, an innovator in hybrid events, have been running their festivals and shows as hybrid experiences. Audiences have grown internationally, and the charity now has a viewership of 1m+. Experience shows that the lower priced ticket holders often donate most generously when artists ask for donations during the show. Running over 20+ campaigns during their festival season, Tête À Tête maximises on DONATE's free campaign set-up.
Read our other spotlights here: https://www.nationalfundingscheme.org/the-spotlight-how-small-charities-are-creating-an-huge-impact/
Wintershall
The annual Passion of Jesus in Trafalgar Square was performed to a live audience in Trafalgar Square, London. During the 90 minute performances the text donation keywords and numbers were displayed on the large video screen in the Square and were displayed during the livestream. The live stream achieved 6.9K views and £1,300.00 in text donations. The video has since been uploaded to Wintershall's YouTube channel generating further text donations.
Read the full case study here: https://www.better-giving-in-action/wintershall-cio-passion-of-jesus-in-trafalgar-square/
Create a photo opportunity
Photos and summer holidays come naturally together and even more so in the days of mobiles,  selfies and social media. Can you create a photo opportunity that visitors will promote across social media on your behalf? Why not collaborate with a local amateur artist to create an artefact that your visitors can take their selfie with? With fundraising information prominently displayed, ask each visitor to promote their selfie across their social channels noting that others telling is many times more powerful than you doing the telling.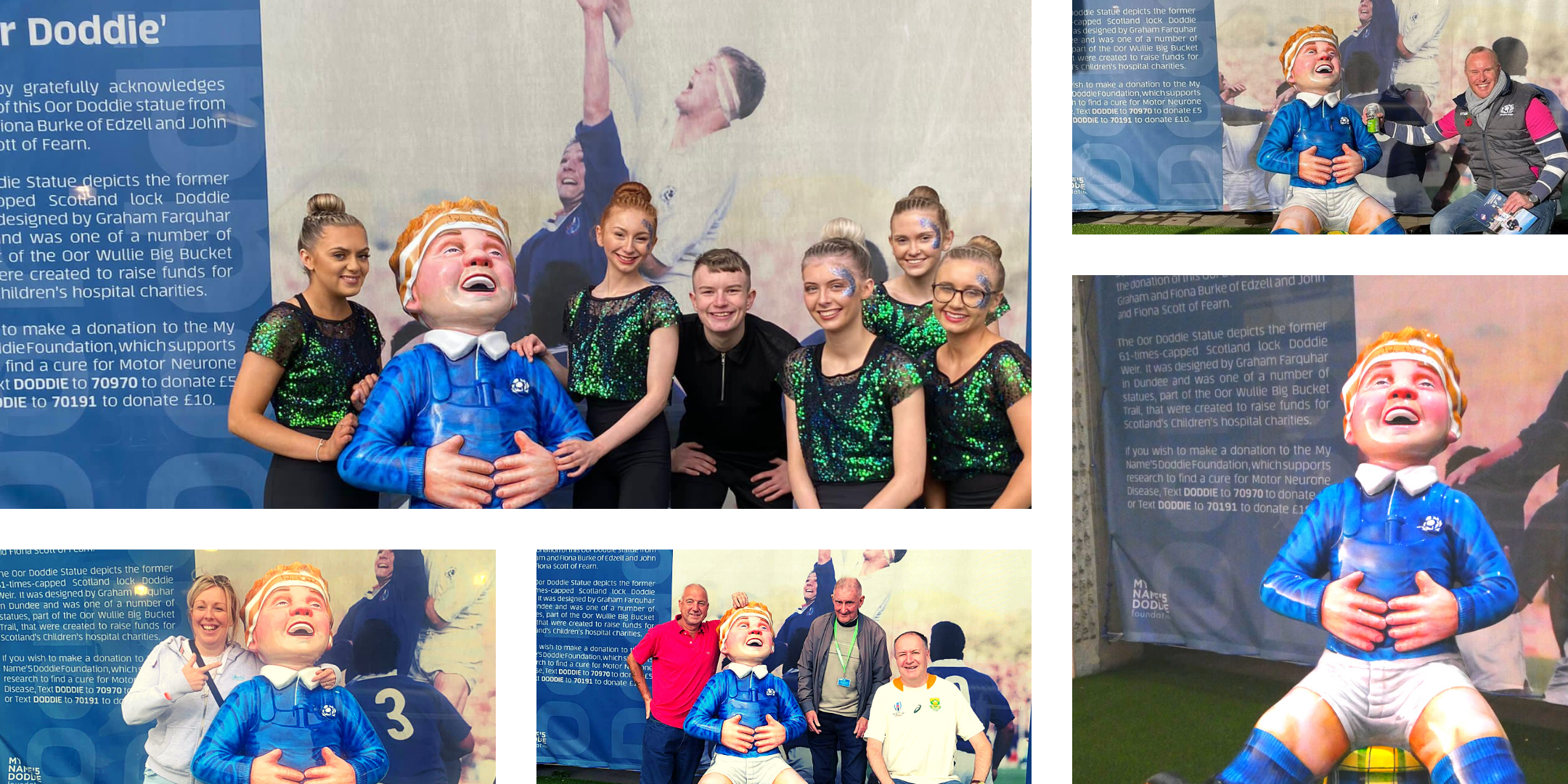 This statue, from the My Name'5 Doddie Foundation and displaying the text-to-donate number, has been shared via selfies across social media. It has raised over £58,000 in text donations.
---
Is it your first time planning a fundraising campaign? Head to our FAQ page for more information or drop us an email. Have you tried any of these ideas before? Do share your insights with us at hello@nationalfundingscheme.org