5 Steps to a Great Text Giving Campaign for your Charity
The average person in the UK spends more than 24 hours a week online (that's one whole day every week). In April 2020 this increased by 37 minutes more each day per online adult compared with January 2020 [i]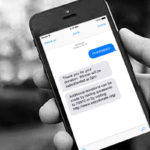 Text Giving for Charities
Text giving allows charities to accept donations and donors to make donations via a text message (charges are made to their phone bills). It is one of the simplest and easiest ways for people to donate. Because text giving requires little effort on the part of donors, it is also one of the most preferred modes of charitable giving. Charities of all sizes love text giving as it takes much of the administrative load off them and provides an easy route to add Gift Aid and create recurring donations
Check out some of DONATE's best text giving campaigns.
https://www.nationalfundingscheme.org/better-giving-in-action/red-for-ruth/
https://www.nationalfundingscheme.org/better-giving-in-action/kings-community-church/
Text giving is straightforward but even the simplest way to raise funds needs a strategy. To achieve the most out of a text giving campaign, your charity needs to take the following 5-step approach which will help you plan, organize and accomplish your fundraising goals.
So, start taking notes!
---
5 Steps to a Great Text Giving Campaign for your Charity
Step 1 – Build Your Campaign
The first step to text fundraising is the same as any other form of fundraising. Sit with your team, brainstorm and hash out what exactly will you be fundraising for. Though general campaigns work well enough, donors are more likely to get warm-hearted for the campaigns with a specific and tangible outcome. The more the emotional connection, the greater the likelihood of more donations.
As an example, a campaign dedicated to raising money for getting "hand-held GPS devices to map turtle nests" might work better than a campaign aimed at "research into changing turtle habitats."
Having a defined goal to work towards is also a motivating factor for donors and charities alike. Therefore, be sure to include the amount of money you intend to raise in your fundraising campaign.
Step 2 – Choose a Text Giving Platform
This is probably going to be the most effortless step of your fundraising campaign. For a text giving campaign, your charity needs a platform which can facilitate SMS text giving for you.
DONATE™ is one of the easiest-to-use platforms made especially flexible for small and medium charities. The platform enables charities to self-administer their own campaign using a secure portal. If your charity is new to text donations, DONATE's platform offers guidance on every step of the way. There are no set-up fees or monthly charges involved and charities can also gather text donations on a monthly recurring basis through the platform as well. With no charges for setting up campaigns you can run as many as you can think of, simultaneously. 
Step 3 – Pick the Right Keyword
The keyword is the core of a text giving campaign; it is the string of letters or numbers given by a charity that donors text on their phones to initiate donations.
You want your keyword to be your campaign's call-to-action. It should motivate your prospective donors to easily understand the purpose of your campaign.
Shorter keywords are always a better option than longer ones. Shorter ones are easier to remember and less likely to get spelt wrong. Longer or complicated keywords are likely to be forgotten or have typing errors leading to donation abandonment. You can also add in a number to your keyword suggesting expected donation levels. Adding numbers can also make your keyword stand out.
For example, for a charity helping people with clean drinking water might use the keyword 54CLEAN suggesting a £5 donation for their clean water initiative. A charity for rescued cats might use the keyword KITTY999 for their text giving campaign.
A quick brainstorm among your team members will generate good ideas for picking up a keyword for your text giving fundraising.
Step 4 – Market Your Keyword
Once you've selected a keyword and set up the campaign through a text giving platform, it is time to shout out the keyword to let the world know how they can support you.
When marketing a text giving campaign, use a multi-channel approach to help your charity reach wider demographics. Develop a set tagline such as "Text BUZZ to 90909 to donate £5" across all of your marketing campaigns. You can label your collection plate or boxes with this tagline or get it announced at the local radio station a few times a day, post it on your social media channels or advertise the tagline in local newspapers and magazines. You can even announce this tagline at local ceremonies, games events and school fairs. 
Approaching prospective donors personally and talking to them one-on-one requires time and a handful of volunteers, but is another effective way to spread the word. You could distribute stickers printed with the text keyword and tagline to the people your volunteers speak with. Or let your mailing list know.
Generally though, verbal announcements are far more effective than written material. 
Step 5 – Gratitude and Tracking Your Campaign
Everyone appreciates being mentioned and so do your donors. You must thank your donors for their generosity and make them a part of your journey by letting them know the results of your campaign. Remember, a happy donor is a recurring donor!
Once you have successfully implemented your text giving campaign and taken a breather, your team will want to come together and have a look through the results. Go through the reports and analyse data about what worked well and what did not. Every text giving campaign offers an abundance of learning opportunities and each campaign makes you better and better at fundraising.
---
Is it your first time planning a fundraising campaign? If yes, you can head to our FAQ page for more information or drop us an email at hello@nationalfundingscheme.org
Have you planned and executed a fundraising campaign before? Do share your insights with our community.  Join our free Guild.co community of fundraising professionals for networking and support.
[i] https://www.ofcom.org.uk/__data/assets/pdf_file/0027/196407/online-nation-2020-report.pdf