SMS TEXT and WEB FUNDRAISING
DONATE provides an immediate and integrated text and mobile-web giving
platform offering your donors the option to give any amount. Once
registered, charities can offer text giving within 2 hours.
"DONATE'S services and professionalism ensured the smooth running of the fundraising aspect of our event and contributed to the success of the evening. I would highly recommend them!"

Caroline Richardson, Senior Fundraising Manager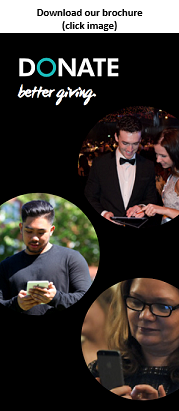 EVENT FUNDRAISING
DONATE helps you raise more donations, more Gift Aid and collect donor data at events, seminars, galas, auctions etc. Our unique platform turns every guest's mobile into a PDQ machine enabling them to give without an upper limit. DONATE can also be used to pay for auction goods so avoiding the chasing up of payments. There is no charge for use of these services beyond our standard transaction fees.
"DONATE has really boosted fundraising at our events. At our Gala Dinner this year we raised 4 times what we expected from one off donations, beating our event last year too. DONATE takes care of all payments at the event and collects the Gift Aid – it really is a win win!"

Sir Bobby Charlton, Founder of Find A Better Way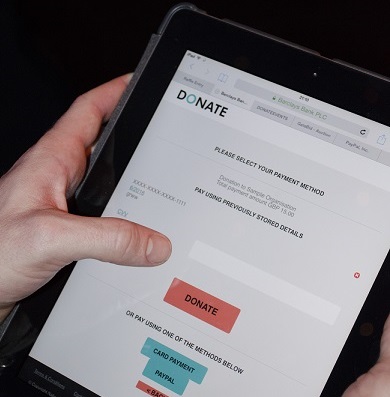 TEXT RAFFLES
DONATE provides the UK's charity text raffle product doing away with paper and cash. £5 and £10 raffle tickets are bought using premium text messaging, entries are randomised and the winner is either texted or called by the event host. There is no charge for use of this service beyond our standard transaction fees.
"The text raffle is so simple and efficient. Everyone took out their mobile and texted one word to a number and that was it! But what really made it fun and dramatic is when the draw was made and the phone call was made to what was a quiet room and somewhere in the room the lucky winner's phone rang. It was one of the highlights of the evening."

Jonathan Levy, guest, Gherkin fundraiser for Bishopsland and FloatArt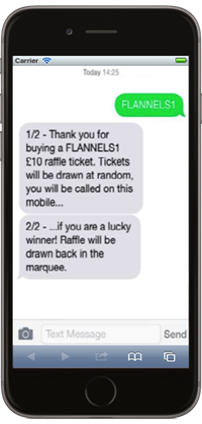 SILENT AUCTIONS
DONATE provides a fully integrated silent auction platform. Once auction images and descriptions, reserve prices and bid increments are added, guests can bid through their phones or iPads. Bidding can be set to start before, and continue after, the fundraising event. Payment (and any associated Gift Aid) is made through the DONATE platform. There is no charge for use of this service beyond our standard transaction fees.
"DONATE's silent auction product allowed us to auction off a range of artwork at our fundraiser. Guests had their mobile phones out, bidding on items throughout the evening and over half of the proceeds came from the silent auction. For us, the great thing about DONATE was that it is a charity itself and there were no up-front charges unlike commercial platforms we looked at."

Anand Saggar, co-founder, FloatArt London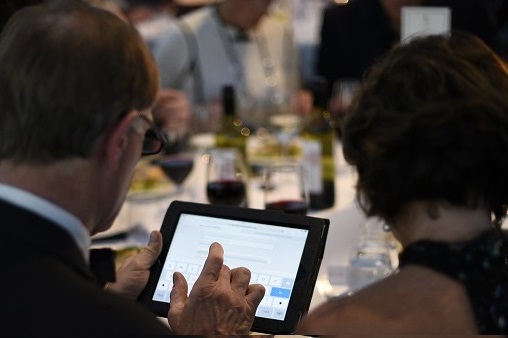 DONATE PLATINUM
DONATE Platinum is a set of extra services to maximise fundraising before, during and after your event. DONATE Platinum provides you with the complete fundraising service:
Pre-event planning meeting 

Senior Account manager
Cash handling service
Reduced rates for:
Trained fundraising hosts 

iPad hire
Post event consultancy meeting